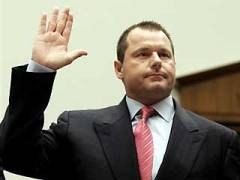 Given that the Roger Clemens case is one in which a syringe-hording drug dealer who once lied to the police about an alleged sexual assault is accusing a philanderer with anger-management issues of illegal drug use, we probably shouldn't be surprised when things get even more seedy. But they have gotten more seedy: McNamee now says that Clemens used his charity foundation to pay for his performance enhancing drugs.
That's interesting and all, but I find the context and the reportage of this story far more interesting. For example, despite the big headline — "Clemens' Foundation Comes Under Scrutiny" — the fact that McNamee could produce no documentary proof of his allegation when asked to by investigators is not mentioned until the seventh paragraph. Given that McNamee is a guy who actually wrote a 100% fraudulent editorial in the New York Times defending Clemens against drug use several years ago, I am shocked that the Times would bury this little fact as deeply as they do. The Times has first hand experience being burned by McNamee's lack of credibility, and yet they are not at all critical of this allegation.
It's also worth noting that the anonymous source of this story is almost certainly a federal agent or attorney (i.e. a person "briefed on the investigation" who can't be seen as the one revealing the information).  In light of the fact that Clemens can be convicted of perjury based merely on proof of drug use irrespective of the source of payment, what's the purpose of this new information being leaked? To make Clemens look like a bad, bad man who would use a children's charity to pay for dirty, dirty steroids. Or at least it would if there was actually any evidence that he did so, which there appears to be none.
I'm not exactly Roger Clemens' biggest fan, and I think there's a pretty decent chance his butt is going to be in a sling over his Congressional testimony and probably should be, but this story strikes me as a hit job. McNamee is offering unsubstantiated garbage to the feds, the feds are leaking it to the press in order to make Clemens look like more of a slimeball than he is, and the reporter is, at best, being far too credulous in passing it all along.
At the risk of hyperbole, allow me to say that I can't point to a single person involved with this investigation who has behaved decently.