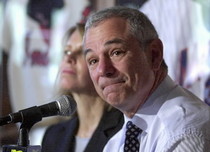 While appearing on "The Michael Kay Show" on ESPN 1050 in New York on Monday, Bobby Valentine confirmed that he did interview for the Orioles' managerial vacancy last week, according to ESPN.com.
"I did go down there and I did talk with the owner [Peter Angelos] and
the general manager [Andy MacPhail] and they have a whole lot of
problems and they seem like they're really putting their heads together
to try to solve them somehow, some way," Valentine said on the show.

Valentine refused to get into specifics regarding the O's job, however he did shed some light on whether he would be willing to accept the opportunity.
"It's a big challenge," Valentine said on the show. "I like big
challenges, but I like to have some reward too, and the reward is in the
standings and their standings don't look like they're going to turn
around very quickly."
You can listen to the full interview here.
The Orioles have already interviewed Valentine and former Indians' skipper Eric Wedge, but don't expect there to be a speedy conclusion here. Just a short while ago, Orioles president Andy MacPhail told Brittany Ghiroli of MLB.com that the managerial search may continue into the offseason.