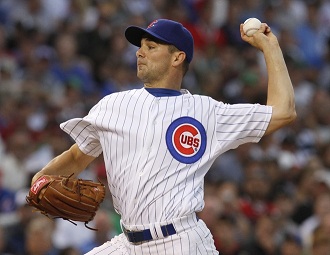 Cubs 1, White Sox 0:  There were boatloads of home runs yesterday — with a ton of guys who had a pair each — but this one was all pitching.  Ted Lilly took a no-hitter into the ninth before pinch-hitting Juan Pierre hit a leadoff single to break it up.  Lou Piniella then took approximately an epoch to walk out to the mound to make the pitching change, Lilly left to an ovation, but then Carlos Marmol made it interesting by walking the first guy he faced, then balking the runners over. After a strikeout, another walk to load the bases and a fielder's choice at the plate, Marmol got the save.  Not to be overlooked was Gavin Floyd's excellent performance as well (8 IP, 3 H, 1 ER, 9K).
Nationals 9, Cleveland 4: Mr. Strasburg gets plenty of coverage so I probably don't need to add too much more about this game. I happened to attend this one, however, so I'll have some more on it later this morning. For now, suffice it to say that even from seats atop the left field wall, you can tell how electric Strasburg's stuff is, even if he didn't necessarily have his best stuff. Which he didn't, but like I said, more later this morning.
Mariners 4, Padres 2: The Mariners win the day after they had a
players-only meeting led by — and I am not making this up — Cliff Lee
and Milton Bradley. Apparently a pep talk by guys who (a) have one foot
out the door; and (b) are basically nuts was just what the doctor
ordered. Tony
Gwynn Jr. hit an inside the park home run, which was mostly a
function of Franklin Gutierrez first misplaying the ball and then
dogging after it to the wall.  Best part: Milton Bradley hustling his
ass off to get the ball from left field. So, yeah, maybe he is the right
guy to give a pep talk.
Phillies 5, Red Sox 3: Your third place Philadelphia Phillies salvage
one after getting shellacked on Friday and Saturday. Charlie Manuel on
Cole Hamels' performance:
"When he's got a good
fastball, that's when he's good. He was good
today, man. He beat a good team. They really work the count on you, and
they'll take the ball the other
way. They're a good team. They're very good."
Say good
again! Good ain't no country I ever heard of! Do they speak English in
good?!
Braves 7, Twins 3: Two homers for Troy Glaus. Even better: the Braves' starting lineup was full of OBPs above .350. I haven't seen that since Gary Sheffield played in Atlanta. You know, back before Chipper Jones died.
Angels 6, Dodgers 5: Jered Weaver struck out Jeff Weaver in this one. Unless Bob Horner had some pitching brother I'm not remembering this was easily the most laid back matchup of siblings in baseball history.  Oh, and the ceremonial first pitch was thrown by the Dos Equis "Most Interesting Man in the World" guy, which I find quite amusing. He probably threw an eephus pitch or a gyroball or something.
Giants 6, Athletics 2: A sweep of the A's courtesy of a pair of two-run homers by Aubrey Huff and seven innings of one-run ball from Matt Cain. Cain has been ridiculous over his past handful of starts. And the Giants have been, more or less, scoring runs for the past week or two, which is a novel way for them to try and win games.
Mets 11, Orioles 4: Lots of two-homer days yesterday. David Wright had
one too. Jason Bay was no slouch at the plate himself, going 4 for 4 as
the Mets open up a can of it on the O's for their first road sweep of
the year. Which I guess is a big deal given that every game story I've
seen of this one mentions it, but I've noticed that when a New York team
is involved there are all kinds of weird milestones and notable marks
that no one ever cares about when other teams do it. All-time team
leaders in whatever. First shutout in a day game. Road sweep. These are
rather meaningless things that only seem to be reported about the Mets
and the Yankees.
Rockies 10, Blue Jays 3: Ryan Spilborghs was yet another two home
run dude yesterday.  I'll admit, I had a lot of beers at the ballgame so I
may have forgotten, but would someone tell me if I hit two home runs?
Odds seem fairly decent that I did.
Diamondbacks 7, Cardinals 5: Stop me if you've heard this one before: two homers, this time for Chris Young, the second of which was a walkoff job.
Marlins 6, Rays 1: Mike Stanton was 2 for 2 with two RBIs. That's three multi-hit games in his first five. Carlos Pena's home run streak ends at six. The Rays fall into a first place tie with the Yankees.
Yankees 9, Astros 5: These Yankees. A grand slam for Jorge Posada — his second in two days — helped Phil Hughes overcome an otherwise "meh" day for him, helping him run his record to 9-1. The Yankees are now 8-1 all time against the Astros. No chance for the Astros to improve that record, as New York doesn't play at Minute Maid Park this season. But, like the man said: "You tell that son of a b—- no Yankee is ever comin' to
Houston. Not as long as you b——- are running things!"
Royals 7, Reds 3: Zach Greinke bounces back from a string of crappy-for-him starts (and the last one was just plain crappy) by striking out 12 Redlegs in a complete game down in Cincinnati. Which means that Stephen Strasburg wasn't even the best pitcher in Ohio yesterday. Oh, and two homers for Joey Votto.
Tigers 4, Pirates 3: Jeff Karstens (7 IP, 6 H, 2 ER) deserved a better fate, but neither his offense nor his bullpen helped him out. Eight straight losses for the Buccos.
Rangers 7, Brewers 2: Hey, here's something novel: Prince Fielder hit two home runs.  In other news, Colby Lewis pitched well (8 IP, 3 H, 2 ER, 10K) and hit a bases loaded single, which he credited to his experience hitting while pitching in Japan's Central League. If that's not a great argument to ban the DH, expunge all DH records from the books and perform universal lobotomies on the populace in order to erase all memories of the DH, I don't know what is.