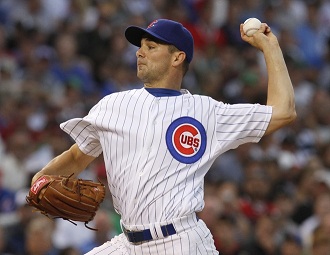 I realize that some of you were watching the Tony Awards, the NBA Finals and other things that don't really matter all that much, but the smart ones among you were watching the Cubs-White Sox game. If you did, you watched a pretty damn spiffy pitching matchup, with Ted Lilly and Gavin Floyd matching no-hit bids until late in the game.
Lilly still had his going in the eighth when White Sox' second baseman Gordon Beckham tried to lay down a bunt to break it up. This did not sit well with the fans in Wrigley, who booed the attempt, most likely because they perceived it as a violation of baseball's unwritten rules. Or maybe they were just booing the fact that Old Style sales were cut off. You never can tell with a Wrigley crowd.  Either way, Ozzie Guillen weighed in on it all:
"You bunt in the ninth, that's unprofessional. But the
eighth, Wrigley Field people; the only thing they can do is boo. They
boo for every freakin thing here."
The Cubs fans were ridiculous to boo, but I'd argue even with Ozzie on this point: in a 1-0 game you can bunt whenever the hell you want if you think it's your best chance to get on base. I mean, sure, we can talk what's bush league and what isn't if the score is 6-0, but in a close game on a rainy night, when the pitcher is starting to think more about his impending accomplishment? Damn skippy I'm asking a speedy player to lay down a bunt if he thinks he can reach on it.
Of course, I'd also be curious to hear what Guillen would say if the situation was reversed and Starlin Castro was laying one down on Floyd. Something tells me he'd take issue with it, and that he wouldn't confine his adjectives to the word "freakin'."