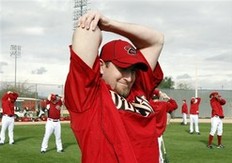 Diamondbacks starter Brandon Webb hasn't appeared in a major league game since September of 2009 due to ongoing shoulder troubles and isn't close to returning this season.  But he did finally make a bit of progress on Saturday, according to the Associated Press.
Webb fired a 30-pitch bullpen session at the sudden request of Arizona pitching coach Mel Stottlemyre Jr. and told reporters afterward that he is finally beginning to see "a little light at the end of the tunnel."  It was the first time he had toed a pitching rubber in close to three months and he felt no pain or discomfort.
The 31-year-old right-hander owns a 3.27 career ERA, a 1.24 career WHIP and an 87-62 lifetime record.  To say he's been successful through his first seven professional seasons would be an understatement, but many are beginning to compare his injury-related fall from grace to that of Mark Mulder's.  Let's hope that kind of talk turns out to be premature.  Mulder, 32, is currently without a team.