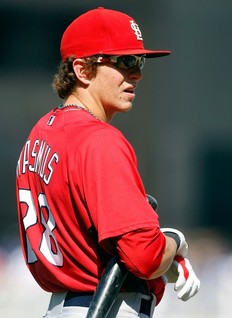 Joe Strauss of the St. Louis Post-Dispatch published a fascinating piece Sunday morning on the once-tumultuous relationship between Cardinals center fielder Colby Rasmus and veteran manager Tony La Russa.
Rasmus was selected 28th overall in the 2005 MLB amateur draft and has already established himself as an important part of the Cardinals both at the plate and in the field. 
A streaky hitter and a typical coach's son, Rasmus sought guidance from his father when he began struggling last season.  That, at first, rubbed La Russa the wrong way, but he has since embraced it.
"I don't have a problem with it," La Russa said last week in Los
Angeles. "I've talked to his father about what he teaches, what he
sees. He knows Colby better than anybody. If he helps Colby, he helps
us."
In turn, Colby has warmed to the sometimes-stubborn but always faithful La Russa.
"I come from such a different place," the Phenix City, Alabama native told the Post-Dispatch. "We've been through some pretty tough times. I mean,
last year I didn't even open my mouth. I can handle it when he gets on
me. But he's old school. Sometimes I don't understand the way he's
going about it. He's a real smart guy. I'm not that smart. I've just
played baseball since I could walk, and some of those things he talks
about I didn't understand."
Rasmus, 23, is hitting .290 this season with a spectacular .397 on-base percentage, a .568 slugging percentage, 11 home runs and 30 RBI through 176 at-bats.  Considered a five-tool prospect when he was drafted, the youngster has also swiped eight bases this year and appears primed for several future 20 HR-20 SB campaigns.