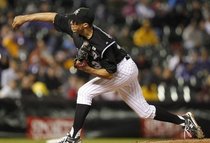 Ubaldo Jimenez tossed his "worst" start of the season in a rain-shortened affair against the Blue Jays on Friday night, allowing a season-high three runs while walking five over six innings. Still, it was just enough to push Jimenez to his major-league best 12th victory of the season, as the Rockies won the game 5-3.
The start of the game was delayed for an hour and 45 minutes and Jimenez told Joey Nowak of MLB.com that he had a hard time being out there at all.
"It wasn't easy to be out there," Jimenez said. "I didn't have any feel
for any of my pitches, even my fastball. I was trying to throw hard and I
couldn't. … The ball just slipped out my fingers most of the time.
Everything was wet. I couldn't push off the mound."
If you didn't see it, the image to the right simply won't do the night justice. Russ Oates of Purple Row has a picture of what the grounds crew had to deal with.
It wasn't pretty, but this victory goes in the books as Jimenez's third complete-game of the season. His ERA (now 1.13) hopped over 1.00 for the first time since since May 20. Boy, we're spoiled.