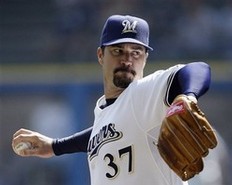 Veteran pitcher Jeff Suppan has been linked to the Cardinals since he was given his release by the Brewers last week.  On Saturday, according to the Associated Press, things finally came together when Suppan tossed a bullpen session in front of St. Louis pitching coach Dave Duncan.
He's expected to finalize a contract with the Cardinals early next week and immediately take over a spot in the club's starting rotation.  With Kyle Lohse and Brad Penny sidelined indefinitely, it does make some sense.
The Cardinals believe they have identified some flaws in Suppan's delivery and will try to help him back to his 2006 form, when he was named the NLCS MVP on a World Series-winning squad.  Suppan, 35, went 44-26 with a 3.95 ERA between 2004-2006 in St. Louis.  He had a 7.84 ERA and a 2.00 WHIP in 31 innings when the Brewers cut him loose on June 7 of this season.