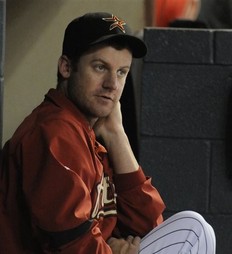 Before Friday's opener against the Yankees, Roy Oswalt dodged the obvious questions about a potential trade to the Bronx (via Brian McTaggart of MLB.com).
"From the very beginning, I've said I want to go to an organization that
wants to win, and the Yankees surely want to win," Oswalt said. "I'm
going to let the front office and my agent handle that. My main focus
right now is just to put us in a situation to win every time I go out
there. The other stuff can handle itself."

Oswalt, who has a no-trade clause in his contract, has already made it clear that he would like to go to a contender, but he downplayed a recent report by Ed Price of AOL Fanhouse that he would only accept a trade to a specific list of teams.
"Somebody said something about a list [of desirable destination teams]
not too long ago, and I don't know anything about that," Oswalt said.
"We'll see where I fit as far as my options and go from there. So far, I
haven't heard anything from the front office. They haven't come back
and said anything, and until they approach me about a team that fits for
me and fits for the team, nothing's been said."
Some will take McTaggart's report to mean that Oswalt would consider being traded to the Yankees and that could be very well be true. They certainly fit the mold of "a contender" and have the deepest of deep pockets. But in the end it's not a whole lot different from what he told Adam Kilgore of the Washington Post when he was asked about the Nationals two weeks ago. Nothing much.