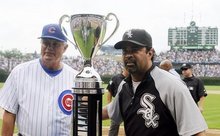 We've seen some pretty unfortunate sponsorships and naming rights in the recent past. Who can forget that Minute Maid Park was once known as Enron Field? More recently, the Mets took quite a bit of heat when rolling out Citi Field. But BP may have picked the worst year possible to be the title sponsor for the interleague series between the Cubs and White Sox.
According to the Associated Press, fans rained down boos when the "BP Crosstown Cup" was presented behind home plate before Friday's game.
According to Michelle Lodge of CNBC.com, the three-year sponsorship was announced on April 26, six days after the oil spill began. Naming rights aside, I'm a little confused here. What happens if the teams split the six games? Seems to me that BP should have had some sort of contingency plan in place.