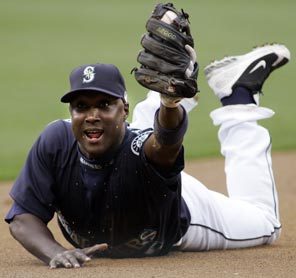 Tom Verducci reminds us today that, but for two games, it would have been the Mariners who would have had the worst record in baseball in 2008 and thus the Mariners — and not the Nationals — who would have had the right to select Stephen Strasburg.  Specifically, going into the final two games of the season, the Mariners had lost 101 ballgames and the Nats had lost 100.  Then something unexpected happened: Yuniesky Betancourt decided to temporarily stop sucking:
That's when Yuni decided to hit like a young Ken Griffey, Jr. He went 5-for-7 with a walk, two runs and two RBI to lead the Mariners
to 7-3 and 4-3 wins over Oakland. The Nationals clinched the Strasburg
sweepstakes by losing two games to Philadelphia.

Those two
otherwise meaningless Seattle wins changed baseball history. It could be
one of the most costly "collapses" ever to end a season. The Mariners
would be looking at a rotation today with Felix Hernandez, Cliff Lee and Strasburg.
That's a nice story, but as is usually the case, there is more to it.
For one thing, the Nationals were facing the future World Champion Philadelphia Phillies that last weekend. Philly clinched on Saturday, so they had Chase Utley, Ryan Howard and everyone else out there for that penultimate game (and in that Sunday game the Nationals themselves trotted out what was basically an American Legion lineup, thus negating the fact that Philly rested its regulars). Meanwhile the Mariners were playing an Athletics team that was far worse at the point of the season than their overall record suggested, having basically tanked the entire second half.
And let's not just blame Bentancourt.  Indeed, in the second to last game of the year, several Mariners knocked the cover off the ball: Kenji Johjima had three RBI and Wladimir Balentein and Miguel Cairo of all people each had a couple of RBI.  They got a rare good performance from R.A. Dickey in the season's last game and Johjima hit the ball well again that day too.  It was a team effort.
At the time I wrote "The final failure of Seattle's failed 2008 season was winning this game,
thereby ensuring that Washington will get the first pick in next
summer's draft."  And, technically speaking that was correct.  But the "failure" had many authors.
And in a larger sense, wasn't it better for Seattle to go down in a blaze of glory than to have them tank like some NBA team?  I'm not sure I could keep my love for a team that blatantly laid down for a draft pick. Could you?