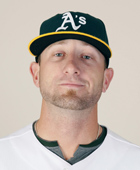 Dallas Braden said after his last that he'd had forearm tightness
all week and felt as if he couldn't finish his pitches properly.  Yesterday he had an MRI on his forearm to see what the problem was.  No sense yet if there's anything amiss, but if surgery is necessary, you can bet Braden won't use any anesthetic, because they roll hard like that in the 209.
I was toying with the idea of inventing the notion of a "Perfect Game Curse" just to see if anyone would pick up on it and maybe give me a book deal like they did for Shaugnessy and his Babe Ruth thing. But then I realized that Occam's Razor just explains too much:  Braden could be hurt. Buehrle may have just pitched the game of his life last year.  Roy Halladay isn't just some exception that proves the curse, he's, like, a world class pitcher.
I'll keep digging though.