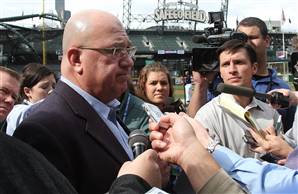 The Seattle Mariners were blown out by the Texas Rangers again on Thursday, this time 12-3 in a game in which the Mariners allowed an astounding eight unearned runs.
Seattle dropped a season-worst 14 games below .500 and has been outscored 31-6 in its last three games, all losses to the AL West-leading Rangers.
Seattle has spent most of the season performing below expectations, though anyone who took a realistic look at their offense might have predicted it. The Mariners' recent run, however, speaks to problems that run deeper than the talent level of the roster, as otherwise sound players are making mistakes in the field and showing a lack of focus.
In fact, there are rumblings that manager Don Wakamatsu is losing control of the clubhouse, in part over the way the beloved Ken Griffey Jr. headed off (or was pushed?) into retirement.
Geoff Baker of the Seattle Times writes that Griffey's departure led to ill-feelings in the clubhouse over how the end of Griffey's career was handled.
Wakamatsu and Griffey had stopped talking to each other the final 10 days or so before the latter's abrupt resignation. Griffey was upset over a lack of playing time. His demeanor and relations between him and Wakamatsu quickly deteriorated in the days and weeks after publication of a story that Griffey had been napping in the clubhouse late in a game when he may have been needed in a pinch-hitting role.

Now, with the Mariners having lost six of its last seven games, Wakamatsu and his staff are trying get this season righted again and avoid another 90-loss — or even 100-loss campaign like the one two years ago.
In addition to the Griffey mess, Wakamatsu has rankled Chone Figgins by bumping him to the No. 9 spot in the order, and irritated pitcher Ian Snell for critical comments (though the way Snell has pitched he should be grateful Wakamatsu remembers his name).
But while it's tempting to pour the heat onto the manager, general manager Jack Zduriencik should share it, or even carry the bulk of it. As golden as his touch was in his first year on the job, Zduriencik got very little right heading into this season.
Sure, Cliff Lee has been great since he got healthy, but the rest of it has been an utter train wreck:
Figgins is hitting .225.
Casey Kotchman, brought in to be the regular first baseman, is hitting .194.
Reliever Brandon League has been good at times, awful at others.
The decision to carry Mike Sweeney and Griffey as co-DHs was a disaster, as Griffey can no longer hit, and Sweeney is, at this point in his career, little better than a league-average player who can't stay healthy.
And Milton Bradley? Well, we don't have time to get into all of that right now.
So JZ, the pressure should be on you. Your first step might be to find some suitors for Lee, because there's no way he's going to want to stick around for the rebuilding project that lies ahead.
Are you on Twitter? You can follow Bob here, and get all your HBT updates here.