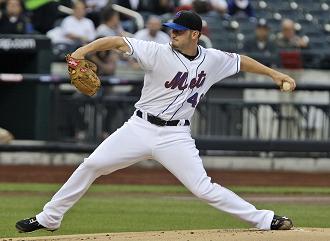 Mets 3, Padres 0: Jon Niese gave up a double to lead off the third. Otherwise: perfect.  Niese said after the game that he didn't even realize it.  In related news, somewhere Oliver Perez told someone that his knee was feeling better, after which he was beaten with a pillowcase full of soda pop cans to ensure that there is no hope of his return.  Oh, there was a first game of the doubleheader too: Padres 4, Mets 2: Mat Latos outdueled Johan Santana to snap the Mets' home win streak at nine. Twenty-two Mets went down in order to end the game after Henry Blanco's home run in the second inning.
Marlins 2, Phillies 0:  Josh Johnson has been incredible lately. Last night he shut out the Phillies on three hits over eight.  He has gone six straight starts giving up either zero or one earned run.  Tough luck loss for Roy Halladay, who was almost as good (8 IP, 6 H, 1 ER, 8K).  After the game Charlie Manuel was asked if he thought it was possible that the Phillies would be shut out seven times this early in the season. His response: "In this game there's a whole lot of crap possible."  God, I love Charlie.
Brewers 5, Cubs 4: Wow, that last play was something. Craig Counsell laid down a bunt with Carlos Gomez at first. Gomez goes with the pitch and doesn't stop at second base, mostly because there is no one covering third. The Cubs try to get Counsell, and fail to. By then the catcher had made it down to third base for a play on Gomez. The throw to third is off the mark and Gomez comes in to score.
Orioles 4, Yankees 3: Jake Arrieta made his major league debut and gave up three runs on four hits over six, collecting his first win. Amazingly, when you adjust that pitching line for the strength of the Pirates' lineup instead of the Yankees, it translates to 7 IP, 4 H, 2 ER, 0 BB, 14K.
Indians 8, Red Sox 7: Wild, baby; wild.  The Sox jump out to a 5-0 lead, the Tribe battles back to go ahead 6-5 in the sixth, Adrian Beltre hits a two-run homer in the ninth to put Boston back on top 7-6, and then Cleveland rallies in the bottom of the ninth to win it. Awful loss for the Sox. Their only saving grace is that the whole city was likely watching the Celtics  beat the Lakers.
Braves 11, Diamondbacks 7: On the one hand I feel bad that Tommy Hanson didn't get the win despite striking out ten guys in 5.1 innings and having left with a 7-2 lead. On the other hand, if he would figure out how to go 5.1 innings without throwing 121 pitches, maybe his record would be less dependent on the ups and downs of his bullpen. Dontrelle Willis only gave up two earned runs, but it was by dumb blind luck that he wasn't beaten out of the building. He was pretty terrible, with poor control. The only reason he escaped with as little damage as he did was because the Braves stranded runners to beat the band in this series. 47 runners, to be precise. How they did that and split the four games is a testament to how bad the Dbacks' pen is.
Rangers 12, Mariners 3: Not sure what the question is, but Ryan Rowland-Smith sure as hell ain't the answer (5.2 IP, 11 H, 8 R, 4 ER). The Rangers put up 33 runs on the M's in the series.
Blue Jays 3, Rays 2: Joe Maddon on why he kept Carl Crawford out of the game: "There's nothing wrong. We just want to get him off his
feet, especially on the turf. He's always had trouble with
this particular field." Strange comment given that this was a home game. He plays half his games on that particular field, doesn't he?
Nationals 4, Pirates 2: There's no shame in getting dominated by Stephen Strasburg, but getting swept by the Nats is not exactly the Pirates' finest hour.  Three straight games with a homer for Adam Dunn.
Reds 7, Giants 6: The Giants jumped out to a four-run lead, but the Reds clawed back, capping it with a eighth-inning rally featuring a two-run triple by Brandon Phillips and a Joey Votto single which plated Phillips for what would be the winning run. Dusty Baker after the game: "I don't know if you expect it, but I know everybody believes, from the
players to the administrative assistants to the grounds crew."  I'm not sure I've ever heard a major league manager give a shoutout to Helen in accounting.
Astros 5, Rockies 4: Roy Oswalt gets back on track after a couple of bumpy starts (7 IP, 4 H, 2 ER, 9K). Puts him squarely back in the "Strasburg trade bait" category, I'm assuming.
Athletics 6, Angels 1: Trevor Cahill allowed one run in eight innings to win his fourth in a row. The A's did something really rare, too: beat up on Ervin Santana a little bit, who has absolutely owned them.
White Sox 3, Tigers 0: Omar Vizquel hit his annual home run (and bunted in a run on the old suicide squeeze). John Danks gave up a single hit in seven innings.
Royals 9, Twins 8: Hey look! Some of Dayton Moore's former Braves projects are paying off. Bruce Chen gets the win and is now 3-0 (he's the mini-Silva) and Wilson Betemit hit two home runs. Not that it was easy. The Royals frittered away much of their 8-1 lead and had to hold on for dear life in the ninth. Let's let Ron Gardenhire assess the Twins' performance: "Probably as sloppy as we've played in a long time. I don't remember the last time we had a defensive
ballgame as bad as that one. Baserunning, pretty bad, too."