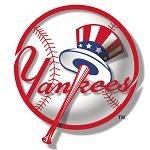 The Yankees are 37-22.  After last night that record is comprised of a 10-1 mark against the Orioles, a 4-0 mark against the Indians and a 5-1 record against the Twins.  Against everyone else the Bombers are under .500.
I would not be at all surprised to hear New York talk radio fret about this sort of thing at some point because New York talk radio is always looking for something to fret about, but it's worth remembering that this is not at all uncommon.  Indeed, it's usually the case that the best teams beat the living tar out of the worst ones and basically break even against the better teams (and, I suppose in the case of the Twins, beat up on those good teams whose number one simply seems to have).  The Yankees did this last year and managed to win a World Series. They also did this in their previous championship year — 2000 — going 42-43 against .500+ opponents en route to a 87-74 record.
And it's not just the Yankees. As Darren Everson pointed out in the Wall Street Journal last year, the last time a team won a World Series while doing better than breaking even against .500+ teams was 1995 when the Braves did it.  Everson also noted that the Angels frequently kick the snot, relatively speaking, out of good teams and they usually get a first round playoff exit for thier troubles.  All the other recent champs have cruised against the pushovers and done no better than hold their own against the toughies.
So while some people may want to see the Yankees play better against the Rays and Red Sox of the word, this pattern is just dandy. At least if you're not an Orioles or an Indians fan.