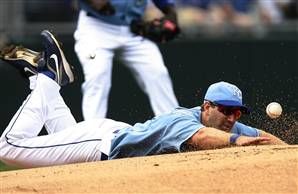 I guess when you play long enough for the Kansas City Royals, you start to think about undertaking more enjoyable career paths.
Case in point: Willie Bloomquist and Jason Kendall want to be Olympic bobsledders. I'm not kidding. Rustin Dodd Sam Mellinger of the Kansas City Star has all the information in his blog.
In fact, Dodd Mellinger went so far as to call U.S. Olympic bobsled coach Brian Shimer to tell him about the players' interest, then passed on Shimer's phone number to Bloomquist. Shimer sounded less than enthused, citing concerns over the players' age (Bloomquist is 32, Kendall 35) and speed.
Me: Yea, so the coach said if you guys ever wanted to go for a ride, he'd be more than happy to take you guys.

Bloomquist: I don't want to ride, I want to drive the thing.

So the conversation went on for another minute. I told Bloomquist the coach was a little concerned about their ages. (Bloomquist is 32 and Kendall is 35).

And I said that coach Shimer said most of the top bobsledders start in their early 20s.

Bloomquist: We'd dominate the 22 year olds.
You've got to love Bloomquist's moxie. It's probably the biggest reason he's stuck in the majors for nine seasons despite having a light bat and sub-par glove (yes, he plays a lot of positions, but is not particularly good at any of them).
He does have wheels, but I can't see either Bloomquist or Kendall being able to give a bobsled much push. Bobsledders tend to be big strong dudes. For example, Steve Holcomb, who piloted the U.S. four-man team to the gold medal in Vancouver, is listed at 5-10, 230 pounds. (Bloomquist is generously listed as 5-11, 195, Kendall at 6-0, 190.)
That being said, when you're putting together a .200/.258/.367 line the way Bloomquist is, maybe the bobsled starts looking pretty easy.
Are you on Twitter? You can follow Bob here, Bob here, and get all your HBT updates here.