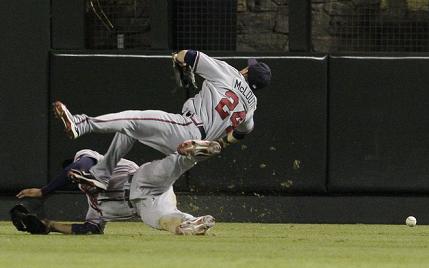 What a way to lose a ballgame.  Nate McLouth and Jason Heyward both raced after a Gerrardo Parra fly ball in the eighth inning of last night's Braves-Dbacks game, slammed into each other and by the time the dust settled Parra had made it around the bases for an inside-the-parker. Video here.  The two-runs which scored on the play were all the Dbacks would need.
McLouth ended up leaving the game after he slammed his head on the ground.  Bobby Cox said after the game that he'd hold McLouth out of today's game and reevaluate him when the Braves get to Minnesota.
All I can think while watching the video is just how close to being truly disastrous that play could have been. If either McLouth or Heyward dive we could be looking at a Mike Cameron-Carlos Beltran type collision.
Just yikes.