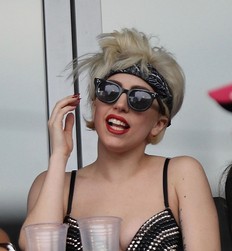 Assuming there are few Lada Gaga fans among the HBT readership, here's come a bash session.
The supposedly controversial singer was in attendance at the opener of Thursday's day-night doubleheader between the Padres and Mets in New York City and flashed her middle finger to the supposedly photog-filled crowd at one point from her luxury suite.  Classy.
Gaga, whose real name is Stefanie Germanotta, grew up in NYC as a Yankees fan and was back in town for her sister's high school graduation.  She's found an international following among teeny-boppers and club goers with regurgitated pop tunes, and has sold over 15 million albums in a little over two years to the mindless masses.
Let's hope her experience Thursday at Citi Field will end any affiliation she ever hoped to have with Major League Baseball.  After all, you can't really autotune the Star Spangled Banner.  Or can you?