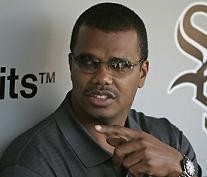 I'm not sure what it is about the White Sox brain trust that leads to all of the high drama, but everything that goes on in Chisox land is, like Williams told MLB.com's Scott Merkin yesterday, a soap opera.  People are always talking about their feelings. More time it spent talking in vague terms about relationship dynamics and almost no time is spent talking about, you know, baseball.  Did Ozzie screw up the lineup? Did Kenny make a bad deal? Who knows!  It's all about whether everyone is getting along.
Maybe less soap opera than reality show. Indeed, Merkin's article is like a "Real World" confessional or something.  Williams goes on and on about self-assessment and relationship maintenance.  Jerry Resinsdorf talks about how Oney Guillen "had to make a decision to keep mouthing off or keep working here."  Ozzie says "Kenny has a right to think whatever he thinks."  All that's missing is a shot before the commercial break of Ozzie, Kenny, and Jerry standing with their backs to each other, frustration evident on their faces, little show title logo appearing in the bottom corner. It's a fascinating piece for what it is, but I never cease to be amazed at how little Kenny Williams is ever quoted about baseball decisions. It's always about how he's getting along with anyone.
The takeaway, though: I think Kenny Williams will quit before anyone is fired, and probably no later than the end of the year. There's surprisingly little heat on Ozzie Guillen for how bad this team is doing. I say surprisingly, because it seemed pretty clear in the offseason that Guillen was strongly suggesting a lot of the roster moves like letting Jim Thome go and stuff. Obviously not the team's biggest problem, but it seemed like the 2010 Sox were authored more by Guillen than Williams. But of course Guillen is a favorite of Jerry Reinsdorf, so maybe that explains a lot of it.
Either way, Williams sounds like he's about had it.  Not sure I can blame him. The South Side is full of so much . . . drama.