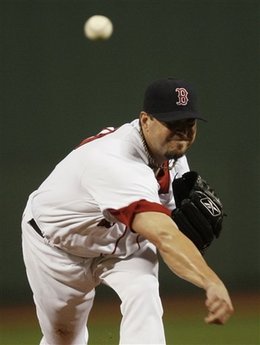 Josh Beckett signed a $68 million contract extension right before losing time and effectiveness to a back injury. WEEI's Rob Bradford asked him if thanks his lucky stars about how the timing of all of that went down:
Beckett said the idea of what might have been if he didn't ink that
four-year, $68 million contract extension hasn't entered his psyche.
That, he explains, is simply not how he operates.

"I haven't really sat down and thought
about what if I was in the middle of things. I wasn't like that in the
middle of my other contract. I'm not a fisherman when it comes to that
stuff . . ."
Yesterday it was Jayson Werth saying that the fact that he's in his walk year is not affecting him, today it's Beckett saying this.  On some level I buy the notion that an elite athlete puts those things out of his mind in order to do his job.  On another level I have a hard time buying it.
Money lost and gained, potentially or otherwise, has to be something they think about, doesn't it? Or are athletes just wired completely differently than the rest of us?
Maybe Beckett is. Dude is marrying a rocket scientist for cryin' out loud, so he's obviously operating on a higher plane than most of us are.