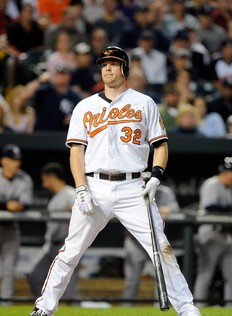 Orioles catcher Matt Wieters was considered one of the top prospects in baseball when he was called up to the majors in May of 2009.  He failed to live up to the high expectations of O's fans, batting a pedestrian .288/.340/.412 with nine home runs and 43 RBI in his first 96 games.  Many baseball people were optimistic that he would turn the corner this season, but he hasn't.  At least not yet.
Through 53 games this season, Wieters is hitting just .246/.316/.346 with four homers and 17 RBI.  Normally fans and management can live with a few unimpressive developmental years.  After all, baseball is a tough game.  But we now live in a results-oriented world populated by guys like Jason Heyward, Stephen Strasburg, Mike Leake and Buster Posey.  We like our youngsters to flash greatness right away, and Wieters has largely been a disappointment thus far. 
Yankees veteran catcher Jorge Posada knows all about the pressure that Wieters is facing, and chatted Thursday with MLB.com's Britt Ghiroli about the 24-year-old backstop.
"When you
are back there behind the plate, obviously your number one priority is
the pitcher, the defense, and [Wieters is] doing a hell of a job," said Posada.  "I
think he needs to understand that. … The sky's the limit.  He's
going to be a good player. He looks strong, he looks good. And he's
going to be there for a while."
Orioles fans can only hope so.  The club currently owns a 16-43 record and is 23 games out of first place.