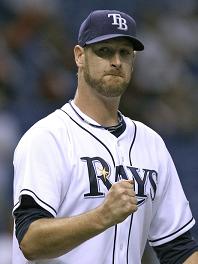 So enough about Strasburg. Nice and all, but he didn't have the best pitching performance last night. The Rays' Jeff Neimann did.  Niemann allowed just two hits in a shutout of the Blue Jays, who sport a slightly better offense than the Pirates.
Indeed, there were a number of fabulous pitching performances last night by fellows not named Stephen Strasburg. Matt Cain shut out the Reds on seven hits.  Mike Pelfrey didn't get the win because the Mets bats didn't break through until extra innings, but he went nine and gave up a single
run on five hits.  Chris Carpenter and Hirkoki Kuroda battled in Los Angels, each shutting out the other side for seven innings. Ted Lilly gave up a single earned run to the Brewers over eight while striking out eight, though his Cubbies did end up losing.  Colby Lewis, Kevin Slowey, and even Tim Wakefield all had strong, strong outings.
I guess something was in the water last night.