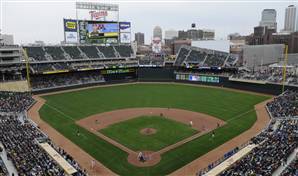 They're not complaining about the dimensions or the wind patterns. They're complaining about the glare. Hitting coach Joe Vavra:
"There's a lot of light that reflects off that wall [beyond center
field], maybe because of all the glass. It has been borderline dangerous
at some points. You can see some of the catchers having trouble catching the ball,
and if the catcher can't catch it, I don't think you're going to be able
to hit it."
They're also getting a lot of glare from the giant Twins logo with the two dudes shaking hands. Some of the suggestions to address it include netting and non-glare coating and stuff.  The team says it will work on it. 
No park is perfect when it opens. There are always little tweaks.  This one, though, would seem like a safety issue.  There's a reason parks have batter's eyes out in center: so the batter can see the ball and not, you know, get cold-cocked with it.  If Target Field is distracting hitters and not allowing them to follow the ball all the way in, it's a big problem.
NOTE: For the safety of our readers, I included a pic of Target Field on an overcast day. Can't be too careful.