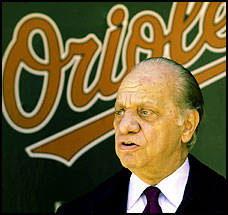 Last night the Baltimore Orioles, while getting killed by the Yankees, started showing the Strasburg game on the big screen at Camden Yards.  I and a lot of other fans probably would have appreciated such a thing if we were there.  One guy didn't, though:  Here's Sweeny Murti from WFAN tweeting during the game:
For yrs Angelos opposed team in Wash.
Now, during (another) O's pitching change, Strasburg highlights on big
screen.
Really?"

For instance: If Strasburg pitched for Mets, and
Yanks were losing 12-3, would Mets highlights be on Yankee Stadium
board? Exactly.
What Sweeney didn't realize at the time was that Orioles owner Peter Angelos owns MASN, and MASN broadcasts Nats games (he was informed later and didn't seem to care).  As such, Stephen Strasburg is making the guy money.  Indeed, just ask him:
"What's good for the Nationals is good for MASN. That
makes me happy, and that makes Mr. Lerner happy. They are partners in the MASN network. The
better they do, the more interest it generates."
That was Angelos just a couple of weeks ago.  I haven't seen a quote from him this morning, but he has to be pleased: the Nielsen preliminary overnight number for MASN's broadcast was a 7.1, which was three times higher than the previously top-rated Nats game and close to seven times better than the average rating for Nats games this season.
Showing them on the big screen? Heck, I wouldn't be surprised if you saw Angelos selling Strasburg jerseys in Camden Yards within the next few days.