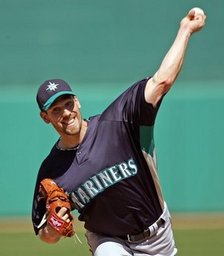 George A. King of the New York Post reports that the Mariners are kinda sorta thinking about trading Cliff Lee to the Yankees.  The "kinda sorta" is because there's no sense that the Yankees are at all interested in Lee. According to King, however, the Mariners are currently scouting the Yankees organization and are interested in shortstop Eduardo Nunez and either prospect catcher Austin Romine or Jesus Montero, no doubt on the assumption that the Yankees will get interested once the M's start dangling Lee.
Makes sense for the Mariners to at least be prepared in the event the Yankees realize that they can get one of the best pitchers in baseball to help them fight the Rays for the division and, assuming a long-term deal gets done, help anchor the rotation for the next several years.
Given his reasonable price tag, of course, there may be a lot of teams interested in renting Lee for the playoff stretch. The M's would be wise, however, to try and find a partner who could negotiate with Lee on a long term deal, thus bringing back some real value in exchange for their failed experiment at contending.