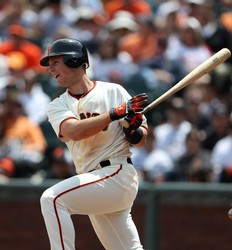 Giants prospect Buster Posey hit his first career major league home run on Wednesday night against the Reds, a two-run shot following a two-out walk by outfielder Pat Burrell.
Chris Haft of MLB.com reports that the shot traveled an estimated 439 feet and landed in the upper deck at Cincinnati's Great American Ballpark.  Only 77 balls have reached the upper deck at the homer-friendly stadium since it opened in 2003.
Posey, 23, was called up from Triple-A Fresno at the end of May to add some power to the Giants' light-hitting lineup, and he's done just that.  Through 38 major league at-bats this season, the catcher-first baseman is hitting a stellar .447 with a .488 on-base percentage and a .632 slugging percentage. 
The Reds were able to retrieve the ball for Posey by offering the fan who caught it an autographed ball signed by the Giants youngster himself.  Congrats, Buster.