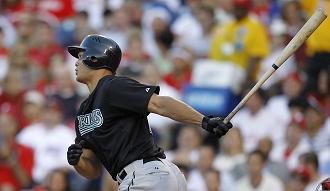 Stephen Strasburg wasn't the only franchise savior who debuted last night. Mike Stanton was called up by the Marlins and had himself a solid debut: 3 for 5 with two runs scored. All of the hits were singles, but given that Stanton's M.O. is to swing for the fences and strikeout whenever he doesn't mash it, the Marlins will take the contact, no problem.
Best thing about his debut: he had to spend the hours before the game trying to find a suit because the Marlins have a farkakte team rule requiring every player to wear business clothes on road trips. OK, maybe it's not farkakte –I get the whole look professional, feel professional thing — but (a) "professional" for a baseball player involves athletic gear, not dress socks; and (b) I'd rather my young stud spend his pre-game hours reading scouting reports, not hanging out at a Men's Warehouse. Maybe I'm just projecting, though. I'm not a fan of suits.
Either way, I would have liked to see the look on the face of the dude at Men's Warehouse when asked if he had something on the rack that could fit a dude who is 6'5″ and weighs 233 pounds.