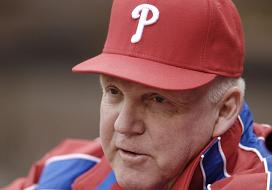 UPDATE: Snipping, sniping, whatever: Jayson Werth is sitting for a second straight day.  Ben Francisco gets the call in right against Josh Johnson and the Marlins.
Not sure I'd read a ton into this. Werth is only 3 for 11 against Johnson with zero extra base hits, so maybe he's not the right guy for Werth to break out of a slump against, ya know?
12:11 P.M: Charlie Manuel, when asked if he thinks Jayson Werth's struggles have anything to do with this being his big free agency year:
"I think something like that has to. It has to. I definitely think that. I
think everyone is like that. Even if a guy is quiet, I know it does. I
know in his mind that he thinks like that. He really got off to a
tremendous start and when things started going a little bad for him, he
thinks about it. But he's going to be fine."
Jayson Werth's response:
"I don't think anybody can sit there and say what I'm thinking. I play hard every night. I hustle. I play to win. Thinking about
my contract is the last thing on my mind."
"Say, don't get sore, see." Charlie Manuel probably said afterward, diffusing the situation.
Werth sat out for the second time in a week last night.  The Marlins won't be around every day to give victories away, so he had best get on the stick if the Phillies are to break out of their funk.