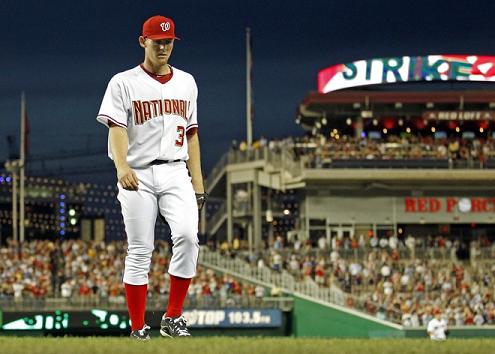 Nationals 5, Pirates 2: A star is born.
Giants 3, Reds 0: Not to be a killjoy or anything, but Matt Cain's game score (76) was one better than Strasburg's (75). Cain was dancin' with the Devil, though, recording 16 fly ball outs in a park where you don't want to be giving up a ton of fly balls.
Rays 9, Blue Jays 0:  And not to be a further killjoy, but Jeff Niemann was better than both Strasburg and Cain, shutting out the bashingest team in baseball on two measly hits.
Mets 2, Padres 1: And while we're listing outstanding pitching performances, let's not forget Mike Pelfrey, who went nine and gave up a single
run on five hits. Ike Davis hit a walkoff tater in the 11th too, which means that Strasburg wasn't the only NL East rookie to have a nice night either.
Phillies 10, Marlins 8: Speaking of NL East rookies, how about Mike Stanton's big league debut? It was a good one — 3 for 5, all singles and a run scored — but the Marlins' pitchers and defensive game decided not to show up, basically gifting this game to the Phillies.
Brewers 3, Cubs 2: More great starts! Ted Lilly (8 IP, 4 H, 1 ER, 0 BB,
8K, higher game score than Strasburg) and Yovani Gallardo (7 IP, 4 H, 0
ER, 2 BB, 7K). Of course neither of them figured in the decision.
Rangers 7, Mariners 1: King Felix decided that he wasn't going to be one of those sheeple, mindlessly joining in last night's pitching party. No, he was his own man: 6 IP, 8 H, 7 ER.  Colby Lewis was game, though (7 IP, 4 H, 1 ER).
Twins 7, Royals 3: Hey, yet another kickass pitching performance: Kevin Slowey, seven shutout innings in which he gave up only three hits.  Meanwhile, Zach Greinke joins Felix Hernandez in the non-conformists club (5 IP, 9 H, 6 ER).  I guess those two are just the toast of 2009 compared to this Strasburg kid.
Dodgers 1, Cardinals 0: I'm struggling to recall a night with more great pitching lines. Let's add Hiroki Kuroda and Chris Carpenter to the mix: 7 IP, 4 H, 0 ER 6K for Kuroda, 7 IP, 6 H, 0 ER, 5K for Carpenter.
Athletics 10, Angels 1: The A's pitching was more of a group effort, with Vin Mazzaro going only five innings and four relievers joining him in collectively allowing one run on eight hits. The real star of the game was Kurt Suzuki, who went 4 for 5 with a homer and four RBI.
Red Sox 3, Indians 2: Tim Wakefield not only baffled the Tribe and got
the win, but he passed up Roger Clemens as the all-time Red Sox innings
pitched leader. Assuming Strasburg stays on regular rest, he gets the
Indians next. For those of you who think he only had a great night
because he faced a crappy lineup in the Pirates, well, you can just go
on thinking it, because there will be no evidence to the contrary
presented for a couple of weeks.
Tigers 7, White Sox 2: Armando Galarraga wasn't perfect but he was good enough to win, scattering seven hits and two runs over five innings. Matt Thornton imploded for the Sox, giving up five runs on three hits and two walks in a mere third of an inning.
Yankees 12, Orioles 7: The Bombers bash the Orioles into submission, led by a Curtis Granderson grand slam and Nick Swisher's five RBI night. Chad Gaudin coming in and giving up four runs in garbage time can't be too comforting, though.
Braves 7, Diamondbacks 5: The Braves should have had a hell of a lot more runs than this, but they stranded 14 runners. Between that and Kris Medlen hurting his non-pitching shoulder while running the bases this could have been a disastrous night. Instead it was merely bad with a silver lining. Medlen should be fine. If he slides like that again, however, he'll probably be fined until Hell won't have it.
Astros 4, Rockies 3: Here's the downside of following the draft: As a Braves fan I remember when they drafted Matt Belisle and I followed his career for a good while. Then he shows up and loses a game like this one and my first thought is "Matt Belisle? He's got to be 42 years old now."  He just turned 30.  I invested a lot of time in his development years and I'm not sure what I got out of it besides a misleading impression of the guy's age.  Sometimes it's just better to be surprised by some guy who shows up in the big leagues.  Now get off my lawn.