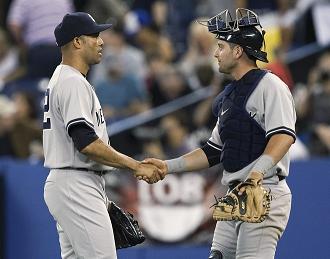 Last week's Power Rankings are all curdled and sour and are no longer fit for human consumption. Here are some new rankings, fresh out of the cow.  Or maybe it's bull. You be the judge.
Nevertheless, these rankings reflect data and impressions through play on Sunday night — which was when I came up with the order — and do not include last night's games. The reason they're a day late is because it took me longer to write the comments.  Anyway:
1. Yankees: Consider this a leap of faith. A gut call. A wild hair. I know it's not reflective of their records, but I just feel like it's time for a change. In this I realize I'm not unlike those college football pollsters who pick some hot Pac-10 team in early October only to really regret it later, but (a) these are the Yankees, not Cal; and (b) they've won six of eight while the Rays have been idling for the better part of three weeks. Besides, the Yankees have six straight against the Orioles and Astros for Pete's sake, and if they can't blow through that with ease the rankings will take care of themselves.
2. Rays: Best record in baseball, sure, but they're certainly a notch back from where they had been. That was fine while the Yankees were dealing with injuries and playing a tough patch of games, but Tampa Bay needs to stand on the accelerator a bit harder than they have been lately.
3. Braves: There's no shame in splitting against the Dodgers in L.A., especially after the sweep of Philly. Once this Dbacks series is over they have six against the Twins and the Rays, however, so they might not want to get too cozy in the catbird seat of the NL East.
4. Twins: Despite being the banged-up (or in some cases just sick) team du jour, dropping three to the Mariners mid-week was not acceptable. Nice bounceback against the A's, though.
5. Red Sox/Blue Jays: Yes, a freakin' tie. And I'm not doing this because people have been jawing at me over their respective rankings. Facts are facts: as of yesterday morning they had the same record, nearly identical home and road records, a run differential that separates them by less than a single Pythagorean game, and they've both won six of ten. It's been a month since they've played head-to-head and while the Jays took two of three then, this is a different Sox team now. As such, we're cleaning the slate and moving on. Show us what you got, AL East also-rans!
7. Cardinals: David Freese and Colby Rasmus have been key contributors. The former left with an injury on Saturday and the latter Sunday. St. Louis can't be without them long.
8. Reds: Remember when everyone was asking why the Reds were bothering to take on Scott Rolen in that trade last year? As of yesterday he was hitting .288/.351/.587, is leading the league in homers and is playing his usual excellent defense. MVP candidate, right?
9. Padres: Just humming right along. Now, trade Heath Bell for a big bat and put some distance between yourselves and the Dodgers.
10. Dodgers: They're winning the close ones. Like, really, really winning the close ones.

11. Giants: Hanging in there despite a struggling Lincecum and a
double play happy offense. Whoever the Padres go after should be on
their trade deadline list as well.
12. Phillies: At this
point I'm guessing that someone on this team built a house on an ancient
Indian burial ground and in exchange had the entire team's weapons
rendered impotent by the Great Spirit. Who was it? Werth? Ibanez? I'm
guessing it was one of those guys. 
13. Tigers: Seeing
them send Dontrelle Willis and Adam Everett away shows that
they're aware that they're not a complete team at present which should
be
an encouraging sign for fans. Also encouraging: the fact that even
though they haven't been playing their best baseball of late they're
still hanging in there with the Twins.
14. Rockies: A
total two-steps-forward-one-step-back team. Just as they're righting the
ship they drop a series to the Dbacks? I remain convinced that they
have the talent to make a big run and put the flawed Dodgers, Giants and
Padres in their rear-view mirror, but they really need to get it
together.
15. Mets:  You know what's going to be a fun?
When press-favorite Jeff Francoeur is benched upon the return of Carlos
Beltran and Angel Pagan is given right field as he so richly deserves. I
wonder if the New York press corps will fall for the Jeffy charm like
the Atlanta press did and write about how a guy who has had over 3000
plate appearances to show his true level "just needs more time to turn
it around."
16. Rangers/Angels/Athletics: Yes,
another tie. This one a three-way!  Really, I'm just going to throw the
Athletics, Rangers and
Angels in a hat pretty soon and just pick them out at random to see
where to rank them, because this "whoever is in first place this week
gets the highest slot" thing isn't very satisfying to me.
19.
Marlins: Conversation I had with my brother recently: Me: "I'm kind
of excited to see Mike Stanton." Him: "He's still hanging around? What
is he, 45?" 
20. Cubs: Where would they be without Carlos
Silva? What were the odds that anyone would say something like that
unironically this year?
21. Nationals: Between Harper and
Strasburg this is a great week for other Nats players to slump, slack
off, get arrested, etc. No one will notice.
22. Royals:
The Royals are hitting. Can you credit the hitting coach? I dunno, but
if there's one I'd like to credit it's Kevin Seitzer. Check
out this great profile of one of my favorite players from back in
the day.
23. White Sox: The fire sale is imminent. In
other news, based on Ozzie
Guillen's Spanish-language tweets from yesterday, I'm pretty sure
he's angling to become the next President of Venezuela. I'm torn here.
On the one hand he seems to care deeply about the plight of the
Venezuelan people who, for all of Chavez's populist posturing, aren't
doing as well as citizens in such a resource-rich country should be. On
the other hand, if you gave Ozzie Guillen an army and diplomatic
immunity you may very well destabilize the entire western hemisphere. 
Screw it: Ozzie in '12!
24. Mariners: Griffey is off
fishing and Sweeney is on the disabled list. With mom and dad gone the
Mariners can finally throw that party they've been talking about.
25.
Brewers: With Trembley gone in Baltimore I suppose Macha's seat is
now the hottest in baseball.
26. Astros: Houston selected
Delino DeShields Jr. in the draft last night. They should try to trade
him to the Dodgers for Clayton Kershaw. What? They fell for it once,
they might fall for it again.
27. Indians:  Strasburg is
supposed to pitch in Cleveland on Sunday. It may be the Tribe's biggest
crowd for the rest of the year.
28. Pirates: Don't tell me
that they're not sitting around the hotel this morning talking about
how sweet it would be to beat the holy Hell out of Strasburg tonight.
Part of me wants to see that. Part of me wants to see Strasburg strike
out 16. Part of me wants to see Strasburg come out, hit the mascot with
the first pitch, hit the leadoff batter with the second pitch and then
get ejected, after which he gives quotes about "controlling the
narrative."
29. Diamondbacks: Talk about a brutal June
schedule: Dodgers, Rockies, Braves, Cardinals, Tigers, Red Sox, Yankeesm
Rays and then the Cardinals again. Mercy.
30.  Orioles:
How long does Juan Samuel get to prove himself before that "interim" tag
starts to set in concrete? I'd say a couple more weeks. If the O's
don't go on a nice little run by then he's officially a placeholder.