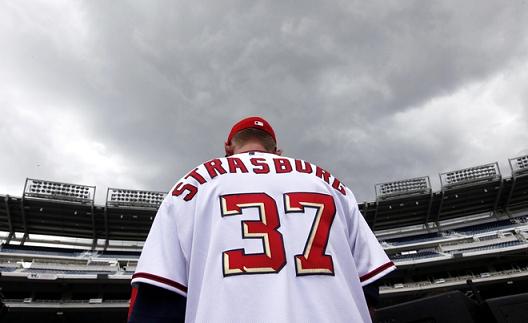 This is normally a retrospective feature, not an anticipatory one, but we all know what's going to happen tonight: a normal baseball game in which Strasburg will either pitch well or he won't but in either case all of the magic pixie dust will be gone and the hard business of actually, you know, forging his major league baseball career will be in front of him.
But that's tomorrow. As of today anything is possible, so let's capture that irrational exuberance for posterity!
Pirates' outfielder Delwyn Young: "I really couldn't care less, to be honest with you. I got
nothing to say, really. It's just another pitcher . . . Hey, Mark Prior."
Carolyn Johnson Thomas: "I like everything I read about him. He's got great potential, and I
hope that he's with Washington for 20 years, as my dad was."  [BTW: Ms. Thomas' dad was Walter Johnson. He pitched a little.]
DangerNat of Nationals Inquisition: "After that first pitch tonight it is going to be
something to see thousands of Nats fans have a Strasgasm all at once."
Ken Burns: "This kid has a lot riding on his shoulders tomorrow night. It's now
moved out of historical precedent and into kind of The Natural;
archetypal fiction in which we endow our baseball players with certain
superhuman capabilities that transcend the game and life itself."
Natasha Jasso:

"Natstown is gonna be like church on Christmas and Easter; So many there– with so few who understand."
Confession time: I want Strasburg to do well long-term because I love pitching and I want baseball in D.C. to be a success. But still, the hype is getting a bit much for me. When I woke up this morning I started thinking about how cool it would be if the Pirates came out and hung six runs on the kid as a little initiation to the big leagues.
Probably asking too much, sure, but this is baseball and all of the commotion is getting a bit too footbally for me.