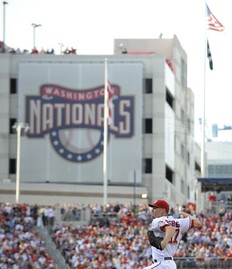 We've been lucky enough to witness a multitude of impressive pitching performances this season.  Ubaldo Jimenez fired a no-hitter in early April and currently sits 11-1 on the year with a 0.93 ERA and a 0.93 WHIP.  Those are historically good numbers. 
Dallas Braden threw a perfect game on May 9 against the Rays, who have owned the best record in baseball for over a month.  He has a 1.09 WHIP.
Roy Halladay, long considered the cream of the crop in the American League, is 8-3 over his first 12 starts in a Phillies uniform with 77 strikeouts and only 13 walks.   He threw his first career perfecto in late May against the Marlins.
It has been a spectacular year for fans of dominant pitching, and let's go ahead and add Stephen Strasburg's name to the list of guys who are making it all happen.  The 21-year-old kid — that's right, kid — out of San Diego State University struck out 14 batters on Tuesday night in his major league debut and picked up his first career win.  It should be the first of many.
Never has a pitcher struck out 14 batters without issuing a walk in a MLB debut.  His 94th and final pitch was clocked at 98 MPH on the Nationals Park gun and he hit 99 MPH regularly throughout the night.
To say Strasburg was impressive would be an understatement.  To say he's "the real deal" would be spot-on.  His hybrid slider-curve looks like a different pitch every time he throws it.  His fastball has a foot of tailing action, even at 99 MPH.  His changeup, which is still in its infancy, looks like a potential long-term out pitch.  He pairs that all with a devastating sinker and he has an incredible amount of touch and feel for his entire arsenal.
This guy's good.  This guy is real good.  The Nats may be years away from contending in the stacked-with-youngsters National League East, but that will change as Strasburg carves his way through opposing lineups, Ian Desmond grows into his role as the starting shortstop, and Drew Storen begins wrapping up games with confidence.  Maybe Bryce Harper will even get on the fast track.
The Nationals arrived in the nation's capital in 2005 and finally moved into their new stadium in 2008.  But not until the night of June 8, 2010 did baseball truly get its welcome back to The District.