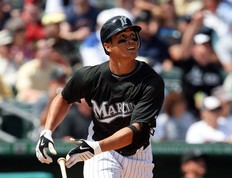 As Craig pointed out earlier, another young "phenom" made his major league debut on Tuesday night: Marlins outfielder Mike Stanton.
The 20-year-old went 3-for-5 with two runs scored and almost helped the Marlins top the Phillies with a bases-loading infield single in the top of the ninth inning.  Ronny Paulino spoiled that fun when he popped out to second base and left the bases jacked.
Stanton batted .311/.411/.726 with 21 home runs and 52 RBI in 52 games this year for Double-A Jacksonville before the Fish promoted him on Tuesday afternoon.  Along with Stephen Strasburg, Jason Heyward, Tommy Hanson, and maybe Ike Davis, Stanton is helping to lead a youth-heavy charge in what, in a few years, could be a very dangerous NL East.