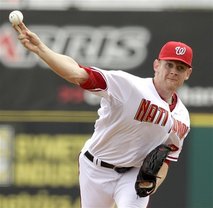 Washington is the center of the baseball universe today. Last night it was Bryce Harper's time in the spotlight. Today is much bigger: Stephen Strasburg's debut.
It's easy to go overboard with this, of course. He's a phenom. A freak. A savior. You name it.  But he's also a young pitcher who, however much he dazzled 'em in the minors, will take his bumps and bruises for a while in the big leagues. Nothing brings that concept home more than a review of the last twenty or so debuts from stud pitchers, a slide show of which you can see here.
The best part of the slide show: just how damn young some of those guys look.