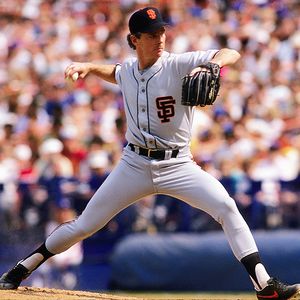 Giants 6, Reds 5: Jose Juan Uribe gave the Giants a 4-1 lead with a two-run single in the third and their 6-5 lead with a two-run single in the seventh. Your moment of random, from the game story: "A man wearing a Mike Krukow Giants jersey and waving a 'Go Buster' sign
dived over a row of seats to get a foul ball hit by Posey in the second
inning."  Question: did he buy the Krukow jersey off the rack in 1986 or did he spend good money to have a custom one made more recently? Because God knows you can't just run down to Dick's Sporting Goods and find a Mike Krukow jersey these days. Well, at least outside of the imaginary world I've created known to me as "Kickassville, U.S.A."
Padres 3, Phillies 1: Cole Hamels had a no-no into the seventh inning, but it didn't hold up. And given how these Phillies bats are hitting these days, it damn nigh would have had to in order to give them the win. Two homers for Adrian Gonzalez. The Phillies haven't had two home runs in a game since May 21st.
Cubs 6, Pirates 1: I hit this one up yesterday. Not known at the time: Silva was pitching this game with the stomach flu, which necessitated several trips to the restroom during the game. The Pirates, in contrast, could not get any runs.
Angels 4, Athletics 2: The Angels win their sixth straight and take over first place. As I said in the Power Rankings last week, in the future, every team will be in first place in the AL West for 15 minutes.
Mariners 4, Rangers 2: Cliff Lee is pretty ridiculously good (CG, 7 H, 2 ER, 7K). Indeed he's so good that the fact that there is a decent chance that he'll be playing for his fourth team in the space of a calendar year sometime soon is one of those things about which historians will one day write long, heavily footnoted articles.
Red Sox 4, Indians 1: A surprisingly aggressive Dice-K throws eight shutout innings.  Manny Acta on his starter, Fausto Carmona, who gave out six free passes in six innings: "I thought Fausto did well despite all the walks." Kind of reminds me of that Marion Barry quote about how the D.C. crime rate wasn't too bad despite all the killings.
Rockies 5, Astros 1: Jason Hammel and Dice-K are going to get together and do a seminar on how to pitch against terrible lineups without breaking a sweat. Seven and a third shutout innings for Hammel vs. the Astros.
Diamondbacks 7, Braves 4: Anything is possible against the Diamondbacks' bullpen, but there are some holes too large to climb out of, and Derek Lowe dug one last night for Atlanta. Lowe, after totally handcuffing the Phillies last week, gave up seven runs and eight hits in four innings. Blah.
Dodgers 12, Cardinals 4: Blake DeWitt hit a homer and drove in five as the Dodgers win in a laugher. Of course if the Dodgers were actually seen laughing during the game it would have been an unwritten rules violation and their players would be subject to plunkings going forward. So no, maybe it was more of an "I'm smiling on the inside" kind of game.