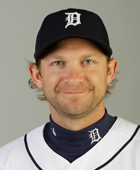 The Tigers announced that shortstop Adam Everett will be designated for assignment tomorrow and Danny Worth will be recalled from Triple-A Toledo to back up Ramon Santiago.
Everett was an offensive liability last year, hitting a mere .238/.288/.325 in 345 at-bats. This year he's been even worse, pinching off a line of .185/.241/.247.  Yes, his defense is still good, but it's not otherworldy like it used to be.
Everett probably still has enough leather to catch on as a utility guy someplace, but his comments after the move was announced — "I'll wait and see what happens. If nothing does, I've
had a good career" — suggest that he doesn't particularly mind if that doesn't come to pass.