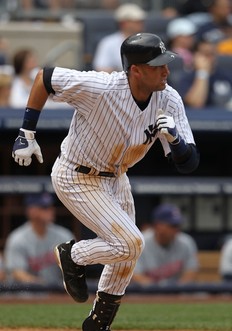 In a recent piece for the New York Times, Tyler Kepner traveled back in history for a look at the 1992 MLB Draft, when Derek Jeter was selected sixth overall by the Yankees.  Kepner spoke to the scouts that drafted Jeter and others who were present and conscious of the Yanks' thinking when the future Hall of Famer was snatched.  It's a great read and a great story, especially when you consider the five names that came off the board before Jeter:
1st overall.  Phil Nevin – 3B – Astros: Nevin was a stud in college for Cal State-Fullerton and lasted 12 years in the major leagues.  He finished his career with a .270 batting average, 208 home runs and 743 RBI in 1217 games.  Now he manages the Tigers' Double-A affiliate in Erie, Pennsylvania.

2nd overall.  Paul Shuey – RHP – Indians: The reliever had several quality seasons and finished with a 3.87 ERA in 476 career appearances for the Tribe, Dodgers and Orioles.  Of course, Cleveland didn't draft him with the hope that he would turn into a mediocre middle reliever and he threw his last major league pitch in 2007.

3rd overall.  B.J. Wallace – LHP – Expos: Wallace was a strikeout machine during his days at Mississippi State University and had a superb opening season in the Single-A Florida State League in 1993.  But injuries plagued him often and he failed to ever reach the major leagues.  By 1996 he was out of baseball altogether.

4th overall.  Jeffery Hammonds – OF – Orioles: Considered a five-tool player when he was selected out of Stanford University, Hammonds shot quickly through the O's system and made his MLB debut in 1993.  He failed to ever live up to the hype, though, and hung up his cleats in 2005 with a .272/.338/.449 career batting line in 957 games.

5th overall.  Chad Motolla – OF – Reds: Motolla didn't debut with the Reds until late 1996 and played in only 59 major league games.  He's better known for his success in the minor leagues, where he's among the all-time leaders in hits and RBI.  Now 38, he works as a hitting coach in the Blue Jays' system.
Some guys — and some clubs, really — just have all the luck.  Jeter, 35, has a .387 career on-base percentage, a .458 slugging percentage, 2,820 hits and 311 stolen bases over his 15-plus professional seasons with the Yankees.  He debuted in 1995 and is currently batting .301/.350/.435 with six home runs, 34 RBI and six steals in 242 at-bats.  This year's amateur draft begins on Monday.  The Nationals, of course, are on the clock and are fully expected to draft 17-year-old catcher Bryce Harper.