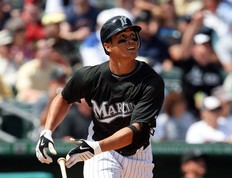 UPDATE: Rodriguez has confirmed that Stanton is indeed on his way to join the Marlins and will be officially promoted before Tuesday's game.  Mike Lamb has been designated for assignment to clear roster space.

3:41pm:  Marlins outfield prospect Mike Stanton is not in the starting lineup for Double-A Jacksonville on Sunday, according to Juan C. Rodriguez with the South Florida Sun-Sentinel, and could be on his way to the majors by the end of the evening.
The Marlins have the day off on Monday, but Stanton could be asked to join the team Sunday night in New York and fly with the club to Philadelphia for a three-game set against the Phillies that starts on Tuesday. 
He went 1-for-3 with a double and two walks on Saturday at Jacksonville and was 3-for-3 with a triple, a home run and two walks the night before.  All in all, the 20-year-old phenom has hit .311/.441/.726 this season with 21 home runs and 52 RBI in 52 games for the Marlins' Double-A affiliate.  To say his bat is major league-ready would be an understatement.
If he is indeed being called up, it won't be to sit on the bench.  Stanton still has much developing to do and is likely to start at least three games a week in the majors through the end of this season.  If he debuts on Tuesday, he will be the second youngest Marlin to do so.  Miguel Cabrera, who played his first MLB game at 20 years and 63 days, still takes the cake.