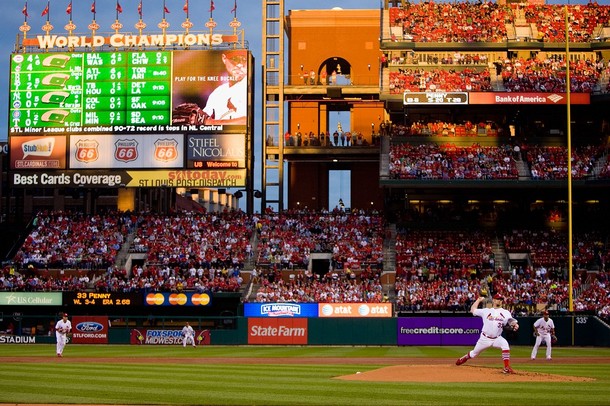 The Cardinals have finally established a timetable for Brad Penny's return from a lat strain, and it's not exactly great news.  According to Joe Strauss of the St. Louis Post-Dispatch, the veteran starter is expected to miss at least the next four-to-six weeks.
Penny was placed on the 15-day disabled list back in late May after opening the season with an impressive 3.23 ERA, 35/9 K/BB ratio and 1.29 WHIP through his first nine starts in a Cardinals uniform.  P.J. Walters and Adam Ottavino have done well in his absence, but that probably won't last long.  And it appears that Kyle Lohse could be out all year.
Adam Wainwright, Chris Carpenter and rookie lefty Jaime Garcia have been spectacular through the first two months of the regular season and the Cards have the luxury of playing in one of baseball's weaker divisions.  But the Reds are right on their tail and now have a healthy Joey Votto.  Things should be interesting for at least the next month in the National League Central.