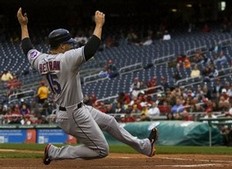 Mets outfielder Carlos Beltran has been sidelined all season while rehabilitating from knee surgery and hasn't exactly been making swift progress.  Hopefully that will all begin changing, as he played in a second straight extended spring training game on Saturday, according to the New York Daily News.
Beltran is still running at less than 75 percent effort, so he has served as the designated hitter in the two exhibition contests rather than patrol center field.  When he makes contact, he jogs slowly to first base.
Mets GM Omar Minaya is hoping that the 33-year-old outfielder will be ready to rejoin the club in a little over a month and that seems to be a realistic expectation, at least for now.  Beltran is still wearing a brace, and his surgically-repaired knee won't truly be tested until he runs the bases, goes hard after fly balls, and does other strenuous lateral movements.
For now we play the waiting game and wonder what kind of boost the third-place Mets will get if a healthy Beltran returns after the All-Star break.  He's a .283/.360/.496 career hitter with 273 home runs and 286 stolen bases in 12 professional seasons.