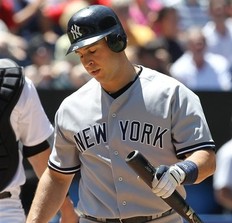 Yankees first baseman Mark Teixeira finished 0-for-6 with five strikeouts in Saturday's extra-innings loss to the Blue Jays.  It was his second career five-strikeout game and he's now batting a lousy .215 with an even lousier .370 slugging percentage through 219 at-bats. 
But, in case anyone was wondering, Yanks manager Joe Girardi is not considering making any changes to the lineup or cutting into Tex's playing time.  In fact, he backed his first baseman several different times in a postgame chat this afternoon with Bryan Hoch of MLB.com:
"It's going to click. It is going to click. When it does, it's going to be fun."

"He's our No. 3 hitter. I'm not changing anything…. He'll get
hot again."

"We all believe in Mark…. He's going to come out of it."
Check out Bryan's piece.  There are four more of those.  The Yankees, for what it's worth, have lost 14 of their last 28 games and trail the Rays by two games in the AL East.  Of course, we all know that the boys in pinstripes — Teixeira included — are plenty capable of getting red hot as the summer heats up.