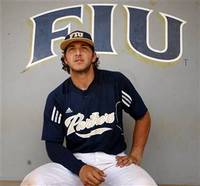 UPDATE: Wittels will have to wait until next season for a chance at history. FIU lost to Dartmouth 15-9 on Saturday afternoon and have been eliminated from the NCAA tournament.
2:28 PM: According to Aaron Fitt of Baseball America, Florida International shortstop Garrett Wittels extended his hitting streak to 56 games with a first-inning double against Dartmouth on Saturday afternoon.
Of course, Joe DiMaggio holds the major league record with a 56-game hitting streak, but Wittels is now just two games away from tying the Division I record set by Robin Ventura with Oklahoma State in 1987. Damian Costantino established the NCAA record by hitting in 60 straight games with Division III Salve
Regina from 2001-2002.
The only thing is, it looks like Wittels might not get a chance at the record this season. After pulling out to an early 6-2 lead, FIU currently trails Dartmouth 12-8 in the top of the seventh inning. With a loss, FIU would be eliminated from the NCAA tournament.