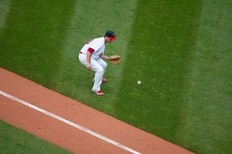 Cardinals rookie third baseman David Freese is off to an incredible start this season and is on a short list of early favorites for the National League's Rookie of the Year award.  I'm under the belief that either Braves outfielder Jason Heyward or St. Louis lefty Jaime Garica would take the cake if the prize was awarded today.
Freese hit what could be his first road block on Saturday, when he suffered a right ankle sprain in an inter-division game against the Brewers.  The news comes to us via B.J. Rains of Fox Sports Midwest.  Freese was replaced at third base by Aaron Miles, who rejoined the Cardinals this week after about 14 months away from the club.  Miles may get his first start of 2010 on Sunday with Felipe Lopez nursing a bruised finger.
Freese, a native St. Louisan, is batting .316 with a .385 on-base percentage and 32 RBI in only 52 games this season.  He's considered "day-to-day," at least for now.