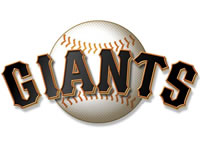 I've been trying to come up with an explanation for this and I've come to the conclusion that Giants manager Bruce Bochy really thinks tonight's game against the Pirates is going to be canceled and he is simply messing with our heads.
Here it is, courtesy of Andrew Baggarly on the San Jose Mercury News:
CF Torres
2B Sanchez
SS Uribe
C Molina
RF Huff
LF Burrell
1B Posey
3B Sandoval
P Wellemeyer
Yes, that's right. Pablo Sandoval — a mainstay in the middle of the lineup for the past two seasons — will bat eighth against left-hander Paul Maholm on Saturday. While that's all kinds of crazy on its own, Aubrey Huff will make his first start in right field since the 2006 season and Pat Burrell will make his Giants debut in left field. Yikes. Don't forget your Maalox, Giants fans.