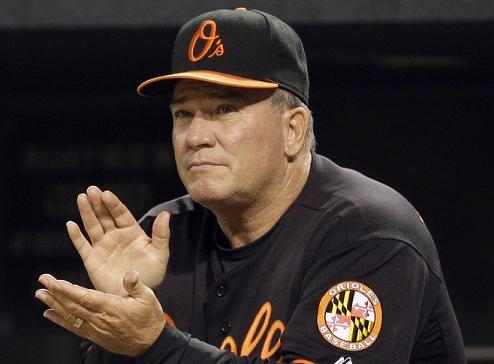 It just became official a little over an hour ago, but its been rumbling for a couple of days now.  Here are some of the early reactions to the Orioles 86ing Dave Trembley:
Camden Chat: Dave Trembley wasn't the greatest manager.  He wasn't the worst.  He managed some good games and he dogged some bad ones. But the motherf—– had his moments, yes he f—— did . . . We've been as bad as many of the worst teams in baseball, but under Trembley we weren't a sad joke like the Royals under Hillman.
Maury Brown: Orioles will have now had five managers in ten years
when Samuel is announced as the interim manager today. Yes, the problem is clearly the
manager with the O's.
Jorge Arangure: So let's
see: Mazzilli first time manager, Perlozzo first time manager, Trembley first time
manager. Hmm maybe it's time to bring in a guy with experience?
Jesse Spector (responding to Arangure): Rather than a manager with experience, how about a
roster with a chance?
Tyler Kepner: Random thought from an '83 Phils nerd: Juan
Samuel, new O's skipper, is now the only guy who manages a team
that beat him in the World Series.
Orioles Post: It's too bad that it has come to this, but with the team's performance,
piss-poor record and fan discontentment, something has to be done. The
Orioles were supposed to improve in the hardest division of all baseball
– perhaps in sports – but instead seemingly have gone backward.
FanHouse: Not that it's entirely his fault by any stretch, but Trembley doesn't
have much room to argue. The O's have the worst record in baseball at
15-39 and were outscored 34-8 on their just-completed 0-6 road trip.
Roar from 34: During the past two decades only Mike Hargrove has lasted
more than
three seasons in Baltimore. In that same time frame the Orioles have had
eight managers. Among those eight, only Davey Johnson and Johnny Oates
have left town with winning records.
Not sure I can disagree with any of that. All in all, this is basically a textbook managerial firing: a need to do something before all of the fans jump ship, more people to blame than the manager getting axed, but not a hell of things you can do besides axe the manager.
Good luck in your future endeavors, Dave Trembley.  Here's hoping you can return to the life of admirable organizational soldiering that got you your job as the O's manager in the first place.  There's no dishonor in that. Actually, there's probably a lot more honor in that than a lot of things you can do in baseball.