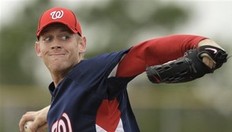 There's obviously a great deal of excitement surrounding Stephen Strasburg's major league debut next Tuesday night, and one town approximately 80 miles away from the nation's capital plans to find an interesting way to express their adoration.
According to the Associated Press, some particularly excited residents of Strasburg, Virginia want their town to be renamed Stephen Strasburg for one week in 2011.
According to the report, town manager Keith Fauber says the town council will meet on Tuesday night — the same day of Strasburg's debut — to bestow a "pride of Strasburg" resolution. Fauber said if young phenom makes an appearance during the town's 250th anniversary celebration in 2011, the resolution will allow the town to be called "Stephen Strasburg" for "a day or a week." 
I'm wondering what will happen if gets bombed in his debut. I know, sacrilege. Dude is a pitching cyborg, right?
Anyway, if you are interested in supporting the cause, go ahead and visit their website here or join their fledgling Facebook group.