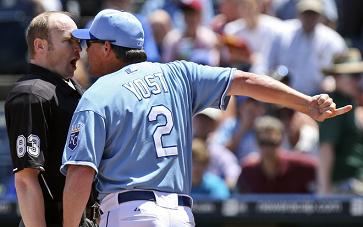 At this point I'm thinking that there had to have been a memo sent out to all the umpires that acting all insecure and combative is the new thing to do because it happened again yesterday, this time involving home plate umpire Mike Eastabrook.
Zack Grekine threw a pitch that both he and catcher Jason Kendall thought was a strike (and, based on the video looked like a strike). Kendall obviously said something, but it's not like he made a scene about it. Catchers and umps go back and forth on this stuff all the time.
Estabrook, however, didn't appear too comfortable with that because he walked around Kendall — who was back in his crouch — bent over and started to jaw with him in a manner that suggested he was giving Kendall the "you talkin' to ME?" thing.  Kendall didn't take the obvious bait.  At that point Ned Yost came out to protect his catcher, got into it with Estabrook and was ejected with about 57% more theatrical flourish than you normally see in such situations.
Kendall after the game:  "He got in my face, and it was unprofessional what he did."
Yost:
"The catcher will say something but he never turns his head back, and
the umpire will usually jaw back and stay right behind him. And that's fine. That's how they handle things. But to step out in
front and make a bit of a scene isn't right . . . I'll never let an umpire show up one of my players, and that's exactly
what he was doing."
I'm 100% on Yost's and Kendalls' side here. I have no idea why umpires have been acting out the way they've been lately, but they're making utter fools of themselves.
Make a call. Stick with it. When someone jaws at you about it, simply say "That's my call. Now let's play ball." How hard is that?
(thanks to reader Richard D. for the heads up)