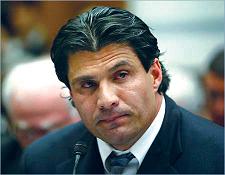 Jose Canseco testified before the grand jury that is deciding whether to indict Roger Clemens on perjury charges yesterday. You could probably do better if you're looking for someone to vouch for your character, but we take our witnesses where we can find them, and Canseco basically backed Clemens' side of the story.
Canseco also had the line of the day when he said the whole thing was "ridiculous" and that "there's got to be better ways to spend taxpayer money."
Not that lying to Congress is no big deal as a general proposition — it is — but let's remember: Canseco's sole reason for being here is to testify about whether or not Roger Clemens was at a barbecue in 1998.  That is the level of the questioning of Clemens and Brian McNamee before Congress a couple of years ago.
Personally? I'd prefer it if my tax dollars were spent doing things others than trying to figure that sort of stuff out.