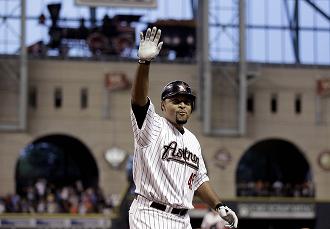 Astros 6, Nationals 4: A walkoff two-run homer for Carlos Lee. The Nationals helped set it up, however, when Cristan Guzman lost
a Lance Berkman liner in the lights and had it bounce in front of him
allowing Michael Bourn to score.
Braves 4, Dodgers 3: The best kept secret in baseball? Kris Medlen. The youngin' who somehow made it OK for the Braves to lose Jair Jurrjens pitches a strong seven and a third innings to help Atlanta to its ninth straight win. The Dodgers' pitchers' streak of scoreless innings ended in the first when Troy Glaus doubled singled in Martin Prado.
Marlins 3, Brewers 2: Josh Johnson took a tough loss against Halladay
last weekend — when the other dude throws a perfect game whaddaya gonna
do? — but he was strong again yesterday, giving up one run on seven
hits in seven innings and striking out eight. Because he toils for the
Marlins it's possible that he's more of a secret than Kris Medlen,
although given just how damn good he is there's no excuse for it.
Tigers 12, Indians 6: Rick Porcello falls a mere seven hits a walk a few
errors and about three innings short of a perfect game. I really hope
Bud Selig does something about this. It's a shame that we were all
deprived of seeing history.
Mariners 4, Twins 1: King Felix picks up his first win in eight starts. Maybe almost getting his head taken off by a Justin Morneau comebacker woke him up. Casey Kotchman set a major league record for consecutive chances without an
error by a first baseman. He's now at 2,008, breaking Kevin Youkilis' old record of 2,002.
White Sox 4, Rangers 3: Carlos Quentin dropped a routine flyball allowing a run to score and got booed. A couple innings later he hit a two-run homer that proved to be the game winner. Oh, and Freddy Garcia has the most wins of any White Sox starter. Which is . . . unexpected.
Angels 5, Royals 4: One out and the bases loaded in the sixth inning. The ball is hit to Allberto Callaspo at third. Callaspo steps on the bag to get the runner from second and then throws home to Jason Kendall. Kendall fails to realize that there is no longer a force at home so he doesn't try to tag the runner. Rather, he merely steps on the plate and the run scores.  Mind you, Kendall's veteran savvy and leadership is the primary reason he's making $6 million between this year and next.
Athletics 9, Red Sox 8: Thirty-two hits between the teams, four of which were Oakland homers. The A's hadn't previously hit more than two in a game this season. The A's lost two players to injury, but the Red Sox had two guys gunned down at home. Advantage: Oakland.
Yankees 6, Orioles 3: Eight straight down the toilet for the Orioles who, depending on which reports you believe this morning, have either fired Dave Trembley or are about to. I do a weekly Friday morning radio spot on WNST in Baltimore. I wonder what we'll talk about today?