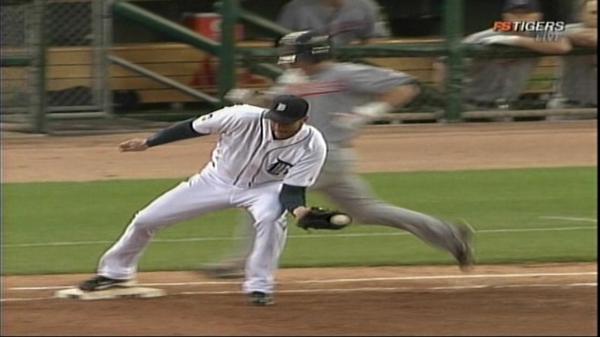 The best thing about this blog are the comments. Sure, there are some knuckleheads that show up here from time to time, but find me any comments section of any major website that has as consistently high-quality conversation and argument as this one and I'll eat my hat. And if any of you saw me in that video yesterday you know one thing about me: I'm a man who needs a hat.
The quality of HBT's readership shows up the best when a big controversial thing happens like the Joyce call last night. People obviously disagreed about the replay thing and people disagree about whether Selig should have overturned the call — which he didn't — but, a couple of those lovable knuckleheads notwithstanding, everyone in the HBT comments had had a pretty sober and insightful take on it. Let's share, shall we?
JimmyY: If we can see the play on TV within 30 seconds and determine it was a
bad call instant replay can surely be implemented . . . Getting it right
and undoing an injustice, that's what matters not some lame excuses.
Josh: If I were an umpire, I would be begging for this. Who wants to be the
next Jim Joyce / Don Denkinger?
Catch 22:
My father was a professional umpire. Not major leagues,
but still a professional umpire. As he used to say, the umpires call is
as much a part of the game as any player on the field. While I am not against the replay system that Mr. Calcaterra is
recommending, the way a game is called by the umpire is what it is.
Andy: No matter if this call is overturned or not, nothing will
replace the emotion that could have been felt in Comerica Park tonight.
Nothing will replace the fact that Galarraga walked into a locker room
with fans booing instead of cheering. Nothing will give him his moment
back. As someone who was born and raised in Detroit, we are used to rolling
with the punches. I've had enough. Instant replay is needed, and now.
Five extra minutes could have lead to a spectacular night for a
pitcher, and an entire city.
On Bud Selig overturning the call and giving Galarraga the perfecto
JoeRo23: I'm not in favor of this happening in any other situation, but this is
that one special, unique, once in a lifetime case, in my mind, in which I
think MLB should change the call and give Galarraga his perfect game.
There could not be fewer repercussions than in this situation – he'd
change (fix is a better word) the outcome of a SINGLE at-bat, and
nullify the following at-bat (taking an out away from the guy who was
the eventual 27th out of the game, so he won't mind).
Kirk: It's ALWAYS amazing to see anyone argue against doing the right thing.
What's the point of being the commissioner if he cannot correct errors.
If not he's useless and might as well be a sports reporter!
Tim J: My sons and I were at the game…as much as I would like to have
witnessed a perfecto, we feel like we did. I'm mounting the kid's
tickets on small plaques for them with text like "Galarraga's 1-hit
perfect game"…lol. I felt sick to my stomach after the call but after
finding out that it was a blown call, I was angry. BUT I don't think it
should be reversed. It would be selfish of me to want that. What about
all of the calls over time that may have robbed someone else of a piece
of history? At least it was cool to be a part of it all.
Matt J: I'm not looking forward to a do-over culture invading baseball. This conversation strikes me as vaguely reminiscent of Little League
coaches believing themselves to be Earl Weaver and playing a game under
protest because of a close call at first base in the second inning of a
game in mid-March. Calls can't be arbitrarily made "correct." There is
integrity (in a limited, sports sense) in making a mistake and
realizing the result. There is no integrity (again in the most limited
sense) in changing something the next day.
CA: The contention that commissioner intervention to overturn Joyce's call
would set some sort of dangerous precedent is overly legalistic. If the
commissioner has the power to see that justice is served in an obvious
case like this, then why shouldn't he do it?
On Jim Joyce having to live with this forever:
Kyle S: Instead of a celebration of a perfect game it's a pity
party for an umpire. I'm sick of hearing about umpires. He ruined something that would have been huge for a lot of people. It's his job to get important calls right and he didn't do his job. I
have no sympathy.
J Rose: I think the the way everyone involved reacted should be used as an
example of how to handle tough situations with dignity and class. From
Galarraga to Joyce to the Tigers players, they handled it just about as
well as anyone could, and much better than the fans are. They are trying
to set an example, yet the angy mob doesn't seem to be following their
lead.
doug: The problem with this piece is that Jim Joyce's feelings
are meaningless compared to the feelings of Armando Galarraga who,
through no fault of his own, had his victory stolen in a way that
frankly appears to be almost intentional. In short: why should we car how Jim Joyce "feels?"
Nick: I feel for Joyce because he owned up to the mistake and apologized. But
no matter what, he will never live this down and that's unfortunate.
No one deserves to have one mistake in a freakin' game define their
life.
Tom: Everyday people must suffer the consequences of bad decisions made on their jobs every day.  Umpires should be no different.  While the apology is nice, it is not enough.  Joyce should be fined or suspended.
Tough crowd, and as often happens, I'm in the distinct minority when it comes to this stuff.  That's fine. If everyone agrees with me I'm probably not doing my job.
Anyway, thanks for all of your comments, folks. And keep them coming.